The capital city of Manila got 504 millimeters (about 20 inches) of rain Tuesday, PNA reported, with more on the way.

The country's weather service — the Philippine Atmospheric, Geophysical and Astronomical Services Administration — warned the region's 12 million residents of continued torrential rains and serious flooding through Wednesday. (CNN)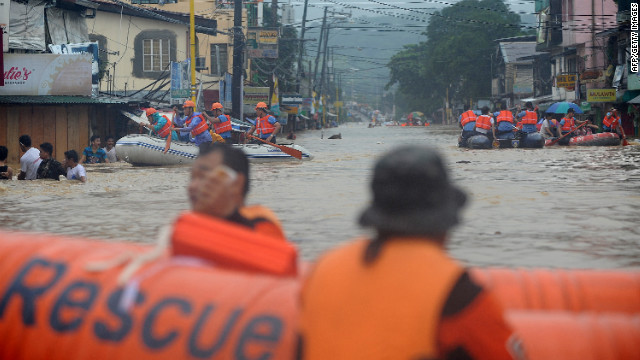 Today brought news that Manila, the capital of the Philippines, is dealing with massive flooding with more potential rain on the way. This is on top of flooding this past weekend in India and North Korea, as well as devastating floods in Japan and China in the weeks prior to this. By my count, these floods and flash floods from the Monsoons and typhoons have led to over 300 deaths just in the past 3 weeks alone. Is it just me or does this seem different than year's past? Via Twitter or simply CNN online, news even in the remotest places of the world travels so quickly these days. We seemingly know about every disaster as it happens. It makes it feels as if more disasters are happening. Sometimes I wonder whether there are just as many disasters in any year as in years prior but it's simply a function of our access to information.
However, the unprecedented damage from flooding (Minot, Missouri, China, and Thailand) and earthquakes and the Japan tsunami of 2011  and these closely linked Asian flash floods of the past few weeks make me think a bit more. 2011 was an unprecedented year. The drought this year in most of the U.S. has been one for the record books. Now these monsoon floods of the past few weeks. That's quite a bit of extremes. The map below details where most of the flooding has occurred in Asia in July and August.
Flooding in the Philippines (Manila)
The following video (below) shows a bit of the flooding in Manila with an aerial view and a call for help. The articles, pictures, and video sound eerily similar to what Bangkok just went through last fall.
Here is more information photos of the Manila flooding:
Manila Floods, Displacing Tens of Thousands (Time)
Flooding brings chaos to Philippine capital (CNN)
North Korea Floods (Anju)
The floods that hit parts of North Korea in recent weeks have killed 169 people and left 400 missing, the state news agency says, sharply revising earlier casualty figures.

The floods and heavy rain in late June and July have also made more than 212,000 people homeless, it says. (BBC)
Of course, given the closed off nature of the country, information coming out about the flooding in North Korea has been pretty limited.  But more and more is popping up. The numbers being reported are close to 200 dead in a country already known for having issues feeding its own people. The video below shows some rare footage of the situation provided by the government run state media. What that means is that it's likely the hardship is worse than shown.
Here is more information on the flooding in North Korea:
Flooded NKorean city desperate for drinking water (AP)
North Korea floods leave 170 dead and 84,000 homeless (Guardian)
North Korea floods: Death toll raised, WFP sends food aid (BBC)
India (Uttarakhand) Flooding
On August 4th, this past Saturday, one of the mountain provinces of India, Uttarakhand, and its surrounding areas got hit by flash flooding that has killed over 30 people. The monsoon season has been more brutal here than I initial noticed, as actually over a hundred people have died as well in the past month in northeast India. Some of India has experienced flooding while the other half is starting to fear drought conditions because of the late Monsoon. Watch the footage of a building collapsing into a river in both clips and the active erosion and steep banks in the second clip.
More information on the India flooding:
Heavy rain causes landslide in Uttarakhand (YouTube)
Flash Flood – condition in Uttarakhand is critical (YouTube)
Uttarakhand flash floods: Death toll mounts to 34 (Time of India)
You hope that this is the end of this run of flooding in Asia but, sadly, the Manila flooding could actually worsen…
Bad weather from seasonal southwest monsoons and Typhoon Saola had already pounded Manila and nearby areas for over a week, soaking the ground and raising dam levels to capacity.

Meteorologists said more than half the amount of rain normally seen in August then fell on the city in 24 hours, and warned the deluge would continue overnight and into Wednesday. (ABS-CBN News)