This week: Testing the levees of the Sacramento Delta, cleaning up after the Manila floods, flooding around the world, a new approach to coping with drought, and using iPads to view construction blueprints.
Shaking the Levees of the Sacramento Delta (NBC)
"It feels a little bit like we're on a waterbed," said Scott Brandenberg, a UCLA assistant engineering professor.

The conflation of mud and machine represented the most recent test of the underlying soil of the Delta's levee system. The spinning device, called an Eccentric Mass Shaker, simulated the pulsing of a large earthquake on the team's homemade model of the Delta's levees.

The aim of the experiment wasn't to see how long it would take the machine to pummel a mound of  of soil into dust. Rather, it was aimed at understanding the soil itself.
Cleanup begins after massive flooding in Manila (The Big Picture)
Relentless rains submerged at least a third to one half of the sprawling Philippine capital of Manila, triggering a landslide that killed nine people and sent emergency crews scrambling to rescue tens of thousands of residents. The deluge, the worst to hit Manila since 2009 (when hundreds died in rampaging flash floods), was set off by the seasonal monsoon that overflowed major dams and rivers in the city and surrounding provinces. Residents were under waist- or neck-deep waters at one point. Clean up has begun, but remains a huge task for the area. At least 60 have died, most from drowning.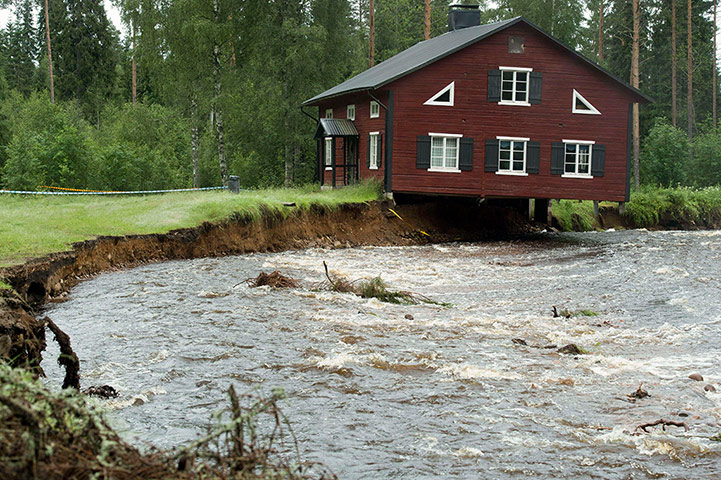 Flooding around the world – in pictures (Guardian)
While the UK has been affected by unusually heavy rain and flooding, many parts of the world often struggle with monsoon rains and flash floods causing severe damage and loss of life.
A Different Approach to Coping With Drought (NY Times)
Mr. Alamaro, the founder and chief technical officer of a start-up called MoreAqua, proposes to cover reservoirs with a layer of vegetable oil made from palm and coconut. The covering would be two-millionths of a millimeter thick – about one molecule in thickness, and hence called a monolayer – and two gallons of it would cover a square mile. It would reduce evaporation by up to 75 percent, he said.

Construction Blueprints Go Digital With iPad (CBS)
The $2.3 billion airport project is expected to take seven years. In that time, workers would need 60,000 pages of blueprints. "You'd have multiple copies of this," said contractor Jeff Pistor, slapping a thick roll of paper representing just one job at the airport. "We'd have to have one here in the trailer. You'd have to have multiples out there on the job site."

Now, there's an app for that. Workers carry every blueprint with them, at all times, no matter where they are on the job site. They can even take and link photographs to exact spots on the virtual blueprints. Meetings are no longer held in a trailer. They are conducted on-site, and everyone can stay on the same page.