This week: Agreement on smaller levee and habitat fixes in the Sacramento-San Joaquin Delta, dealing with floods on the Missouri River, some great aerial photography of the Colorado River system, healthy rivers bringing economic benefit, and the professional engineers' license debate heats up.
Warring parties agree on some levee, habitat fixes in Sacramento-San Joaquin Delta (Sacramento Bee)
After struggling for two decades to address these risks, state officials are finalizing a controversial solution: build a pair of giant tunnels, at a cost of $14 billion, to divert a portion of the Sacramento River directly to the export pumps.

That project is part of the Bay Delta Conservation Plan and has proved controversial. Delta residents fear the tunnels will allow more salty water to intrude from the ocean, harming local farms. Conservationists and fishery experts worry it may do little, on balance, to help wildlife.

The controversy has prevented action on smaller fixes, a realization that brought the coalition into being six months ago. Participants said they were able to agree on the 43 smaller Delta projects because they decided at the outset to avoid weighing in on the controversial tunnels, or any projects that would affect them.
Corps: Prevention is the lesson in Missouri River floods (Omaha.com)
But the corps cannot guarantee that such floods can be prevented from occurring in the future, said Michael Coffey, a corps spokeswoman at Northwestern Division headquarters in Portland, Ore.

"There will always be residual risk," Coffey said Friday. "But we can learn and explore ways to reduce that risk."
Photo Slideshow: Above the Colorado River (Circle of Blue)
'The Colorado River gives our local people the opportunity to see the impacts of the drought and see the connection to their water supply. As Lake Mead's level began to drop, it became the poster child for the conditions we needed to prepare for. At the drought's peak, there was a 120-foot-tall white ring around that lake — that's 12 stories high — and we lost trillions of gallons of water. People connected with that.' -Doug Bennett, conservation manager of Southern Nevada Water Authority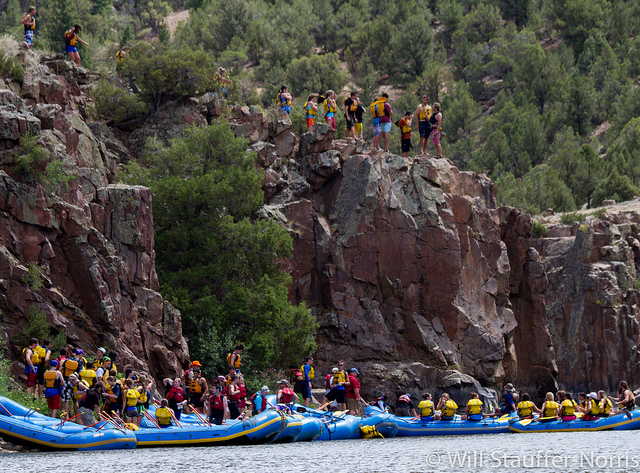 Do Healthy Rivers Make a Stronger Economy? River Recreation, Part II (Huffington Post)
Whether the flows are secured for a whitewater park or for an endangered species, the whole system will see the benefit, now and in years to come. In a recent negotiation concerning the Denver and Northern Water's plans to divert up to 80 percent of the water above the confluence of the Fraser and Colorado Rivers, Underbrink Curran reported that "Grand County only bargained for water for the environment."

By keeping water in the Colorado River, by preserving the environmental benefits a flowing river brings, people and money are drawn to our state, and an investment has been made for our future. "A finite resource can have more than one function," she concluded. "Why not?"
Professional Engineers' License Debate Grows in Intensity (ENR)
Six years after the nation's umbrella engineering licensing body embraced a so-called Model Rule that would extend by 30 the number of extra credit-hours BS-degreed engineers must have to gain a professional license, no state licensing board has made it a reality.

But as a targeted 2020 deadline draws closer, proponents are revving up their campaign for a required graduate degree. They do so against a rising tide of opposition across the industry, professional societies and academia.