This week: Displacement of thousands due to flooding in Nigeria, rebuilding Louisiana wetlands, the death toll rising after more flooding in South Africa, progress on the West Sacramento setback levee, and tips for more effective slideshow presentations.
Mississippi River Diversion Helped Build Louisiana Wetlands, Geologists Find (Science Daily)
The extensive system of levees along the Mississippi River has done much to prevent devastating floods in riverside communities. But the levees have also contributed to the loss of Louisiana's wetlands. By holding in floodwaters, they prevent sediment from flowing into the watershed and rebuilding marshes, which are compacting under their own weight and losing ground to sea-level rise.
Flood death toll rises (iol news, South Africa)
The death toll in flooding-related incidents in the Western Cape and Eastern and Cape has risen to double figures, with more details emerging of heavy damage caused at the weekend.

In Port Alfred one house was washed away and others severely damaged by rising waters. Part of a road in the town was washed away, isolating a suburb.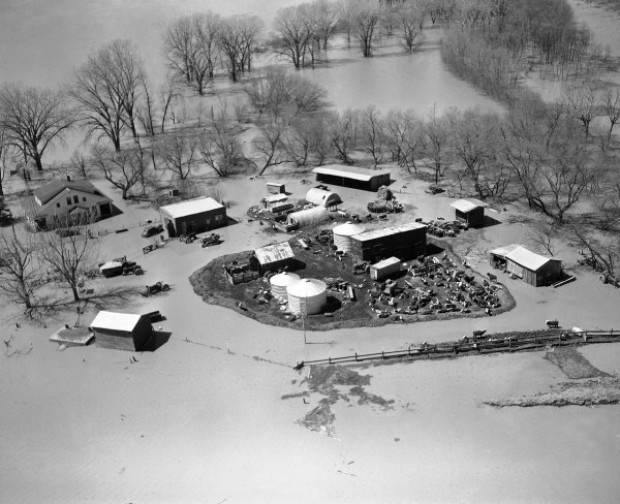 Missouri River: A flood of disagreements has shaped vital waterway (Sioux City Journal)
Some of these rivalries have existed ever since the U.S. Army Corps of Engineers began building dams and controlling Missouri River flows.

Those rivalries have influenced river management from the beginning, and, some river experts say, are partially responsible for the severity of last year's flooding.

Those same disagreements could lead to a missed opportunity to change the river and its flood plain, to lessen the damage done by future floods and potentially save millions in taxpayer dollars.

Opponents have dug in, committed to defending their own self-interests rather than agreeing on solutions for the greater good of the basin. They see Missouri River management as a win-lose proposition when a tie would be nearly as beneficial.
USA: Work on West Sacramento Levee Paused for Rainy Season (Dredging Today)
The project is a joint effort between the Corps and the Central Valley Flood Protection Board to strengthen levees along the Sacramento River and its tributaries, a part of the Corps' Sacramento River Bank Protection Project. When finished, the new levee will be set back 250 feet from the old levee and will be 15 feet high, 2,200 feet long, and have up to a 75-foot-deep seepage cutoff wall in its center. Cutoff walls strengthen levees and help prevent water from leaking through or under them.
7 Rules for More Effective Slide Presentations (Michael Hyatt)
I originally created slideshows the old-fashioned way—with cardboard-framed, 35mm slides inserted into a slide carousel. In May 1990, Microsoft revolutionized the business world by releasing PowerPoint. It totally changed the way presentations were made.

In 2004, my friend, Joel Smith of Comprehensive Media, first introduced me to Apple's Keynote program, a competitor to PowerPoint. I was blown away.

But unfortunately, slide presentation software has not improved the quality of speeches. In fact, often it gets in the way.