This week: Lake Powell under 50% of capacity with Lake Mead dropping as well, Japan post tsunami 2 years later, new river modeling facility for the Mississippi River, and has Google killed RSS?
Water: Lake Powell dips under 50 percent of capacity (Summit County Citizens Voice)
Lake Powell won't be looking its best for its 50th birthday this year. The key reservoir in the Colorado River Basin is almost 100 feet below full pool and recently dipped to below 50 percent capacity, according to the U.S. Bureau of Reclamation's operations update.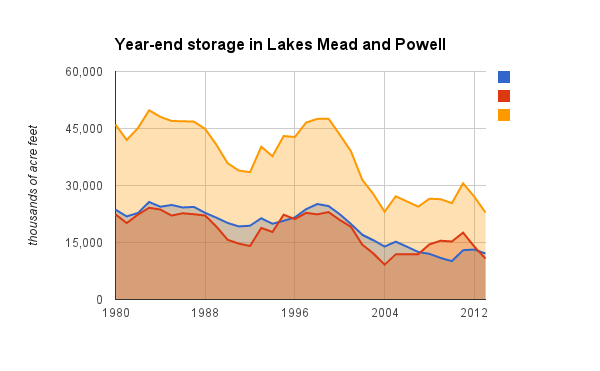 River Beat: The Emptying of Lake Powell (inkstain)
Based on the latest forecast, the year-end storage level in Lake Powell will be the second lowest in history, only behind 2004. After the brief bump from the very wet 2011, Lake Mead is dropping again too. And with Powell low, the "bonus water" the Lower Colorado River Basin's water users have come to depend on as a result of the complex "equalization" rules aimed at balancing supplies in the two big reservoirs, can no longer be counted on.

Mead's projected to drop 11 feet this year (end of September compared to same date in 2012). Powell will be down an estimated 32 feet.
Japan Earthquake, 2 Years Later: Before and After (The Atlantic)
In a few days, Japan will mark the 2nd anniversary of the devastating Tohoku earthquake and resulting tsunami. The disaster killed nearly 19,000 across Japan, leveling entire coastal villages. Now, nearly all the rubble has been removed, or stacked neatly, but reconstruction on higher ground is lagging, as government red tape has slowed recovery efforts. Locals living in temporary housing are frustrated, and still haunted by the horrific event, some displaying signs of post-traumatic stress disorder.
New river modeling facility will allow greater research opportunities (The Daily Reveille)
Louisiana's Coastal Protection and Restoration Authority, together with the University, will construct a new scale model of the lower Mississippi River that will be four times larger in scale and size than the University's existing model on River Road.

The new model will be a massive, indoor, scale replica of the Mississippi River from Donaldsonville to the river delta, complete with sediment and running water, which will allow researchers and engineers with CPRA and the University to study the river's dynamics.

The new model will be the largest moving-bed, hydraulic physical model in the country, said Rudy Simoneaux, the CPRA's project engineer.
Has Google Killed RSS? (Social Media Today)
For instance, and ironically, the announcement from Google regarding the closure of Google Reader was posted to their blog. As a major player in the social media and tech industry, I watch Google closely and have subscribed to their RSS feed. I found out about this breaking news when I opened my Newsify app and brought up my Google Reader feeds. In other words, I was using Google Reader when I found out Google Reader was going to be shut down.