This week: Chicago and much of the Midwest are in the midst of flooding as the Mississippi still rises and more rain is forecast and Bangkok experiences some heavy local inundation again.
Midwest flooding: Rivers reaching crest level in several towns (AP)
The surging Mississippi was at or near crest at several places from the Quad Cities south to near St. Louis — some reaching 10 feet above flood stage. Problems were plentiful: Hundreds of thousands of acres of swamped farmland as planting season approaches; three people died; roads and bridges closed, including sections of major highways like U.S. 61 in Iowa and Missouri and crossings at Quincy, Ill., and Louisiana, Mo.

The U.S. Coast Guard said 114 barges broke loose near St. Louis on Saturday night, and four hit the Jefferson Barracks Bridge in St. Louis County. The bridge was closed about six hours for inspection but reopened around 8 a.m. Sunday. The runaway barges were corralled but authorities believe a few sank.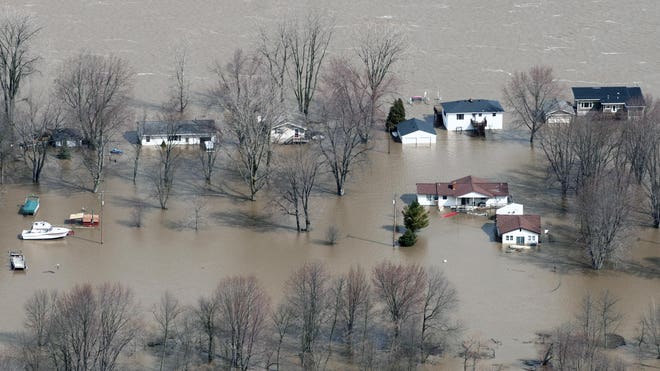 Midwest towns brace as rain, snow could lead to more flooding (Fox News)
The river was at or near crest at several places Sunday between the Quad Cities and near St. Louis. Some towns in the approximate 100-mile stretch of river from Quincy, Ill., to Grafton, Ill., reached 10-12 feet above flood stage.

The good news was that most businesses and homes were high and dry, though hundreds of acres of farmland were under water, bridges were closed at Quincy and Louisiana, Mo., and countless roads were shutdown.

But river towns aren't yet in the clear: An inch or more of rain is in the forecast as well as continuing accumulation of snow to the north, especially in Minnesota and the Dakotas. Flood watchers along both the Missouri and Mississippi rivers know that once that snow — record levels in some cases — melts, a lot of it ends up in the big rivers.
A sinkhole swallowed three cars in the South Deering neighborhood on Chicago's Southeast Side near the intersection of 96th and Houston.  Emergency crews arrived on the scene just after 5 a.m. after two cars had been pulled under – the hole quickly grew from 20 feet to 40 feet.  A few hours later the ground caved under the parked car.

The driver of the silver pickup truck was on his way to work when the hole opened up and he drove into it.  Fortunately he wasn't seriously injured. (WGN)
In flooding aftermath, some roads still closed as cleanup continues (Sun Times)
Four days after heavy rains flooded the Chicago region, Des Plaines officials said many of their roads remained impassable at the Des Plaines River on Sunday night.

Only Miner and Touhy offered east-west passage across Des Plaines, a police official said. However, she noted traffic on both streets was "horrendous." Evacuated residents, meanwhile, have not been able to return to their homes because "the water's only gone down about an inch."

The Des Plaines River was at 9.98 feet Sunday night in Des Plaines, according to readings by the National Weather Service — that's nearly twice its flood stage.
Bangkok thunderstorm causes floods (Before It's News)
Flood waters caused traffic jams at Ngamwongwan, Prachasongkhroh, Vibhawadi-Rangsit and Sukhumwit region.

Bangkok thunderstorm also flooded several BTS train cars.