This week: More rain and snow causing Midwest rivers to rise again though not as high as last month, Fargo appears to be spared record flooding but prediction of a major flood is now causing some frustration, most of the U.S. still in a drought, major flooding in Saskatchewan, Canada, more runoff fall out from the High Park Fire on the Cache La Poudre River, Colorado, and major floods predicted this year for Nigeria.
Rain, snow make rivers rise again (Canton Daily Ledger)
More heavy rain and late-season snow are creating new flood concerns for Midwest river towns still cleaning up from April flooding, though forecasters say the waters won't rise as high as last month.

Precipitation pelted the heartland Thursday and Friday, and was expected to continue through the weekend.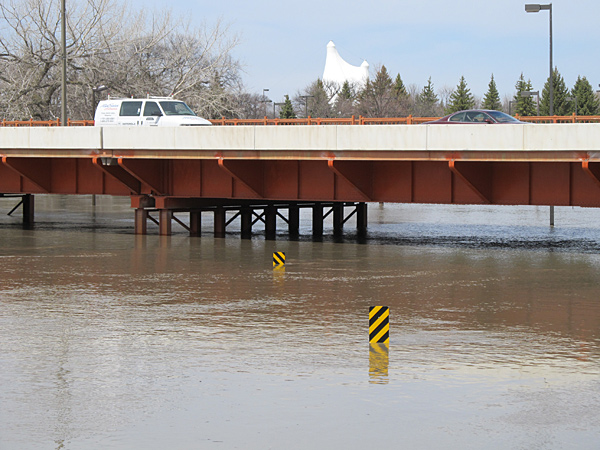 In Fargo and elsewhere, flood predicting is tough, despite reams of data (MPR)
Once there, the work by the U.S. Geological Survey's water expert became part of the data stew the weather service relies upon to regularly update crest projections for rivers like the Red, which rose again this spring to briefly threaten Fargo and neighboring Moorhead, Minn. And the complexity of the science was never more evident than this year, when an early forecast of 40 feet prompted costly sandbagging only to be repeatedly revised downward until the Red barely broke a harmless 33 feet.

The apparent false alarm irritated some residents who questioned why the city spent $2 million preparing for the flood that wasn't. And that irritated Fargo Mayor Dennis Walaker, who has sparred with the weather service himself in the past.
Floods eased drought in Midwest; West now a concern (USA Today)
Thursday's U.S. Drought Monitor, a weekly federal website that tracks drought across the country, noted, surprisingly, that the Upper Midwest remains in a low-level drought, as the region continues to deal with long-term precipitation deficits, despite the seasonal spring flooding…

Nationally, 46.9% of the contiguous U.S. is in a drought. "Drought coverage is now down 14.19 percentage points since the beginning of 2013 and down 18.55 points from the record high of 65.45% on Sept. 25, 2012," said Brad Rippey, a meteorologist with the U.S. Department of Agriculture.
13 Saskatchewan communities remain under flooding emergencies (CTV News)
Thirteen Saskatchewan communities, including two First Nations, remain under a state of emergency after warmer temperatures last week led to widespread flooding across the southern half of the province.
Poudre Canyon faces mudslides, rockfalls from spring runoff (Coloradoan)
The suddenly snowy mountains west of Fort Collins now pose an added danger for Poudre Canyon visitors, with predictions of mudslides, rockfalls and falling trees in the High Park Fire burn area.

Last fall, mudslides and rockfalls repeatedly blocked Colorado Highway 14 west of Fort Collins in the weeks following the High Park Fire. The spring runoff is poised to cause even more trouble in the coming weeks and years.
Nigeria Expects Devastating Floods in 2013 (FloodList)
So with such devastating flooding predicted, what action will Nigeria take?

A possibility is lowering the storage during May and June in the major reservoirs on the Komadugu, Yobe Basin and the Niger and Benue basins. This should leave plenty of room for the heavy rainfalls of July.

This may well have been said with regard to what happened in 2012 in northern Nigeria, when 2 million people were displaced from their homes after authorities had to open the floodgates of the Challawa and Tiga dams, in Kino State. Torrential rains in September 2012 caused the Eleyele Dam near Ibadan city to burst, killing more than 120 people.