This week: Bad news from the latest California snow survey reading means reservoirs will be drawn even further, the Catawba River overflows its banks in North Carolina, Lake Mead and Lake Powell heading towards their lowest levels ever, a cool Google timelapse of a meandering channel in Peru, and a very good review of the Garmin Oregon 650.
California Water Supply To Be Drawn From Storage To Meet Demand (KPBS)
The final California snow survey is bad news for the millions of residents and farmers who rely on the snowpack for their water. The reading was just 17 percent of normal following one of the driest winters on record, California Department of Water Resources(DWR) officials announced Thursday.

DWR projects it will only be able to deliver 35 percent of requested amounts from the State Water Project to the 29 agencies that purchase the water. The last time the allocation was that low was in 2008.
Heavy rains cause Catawba River flooding (Charlotte Observer)
Water raced downstream after mountain counties received up to 7 inches of rain Monday. Nearly a dozen landslides near Asheville were blamed on the rains, and roads near the French Broad River remained closed because of high water. Several roads across the mountains remain closed after landslides, and one of the slides killed a railroad worker.

Charlotte received 1.6 inches of rain, breaking a precipitation record for the day.

The flooding reached its maximum level just after 5 p.m. Tuesday, Charlotte Deputy Fire Chief Jeff Dulin told reporters at a news conference.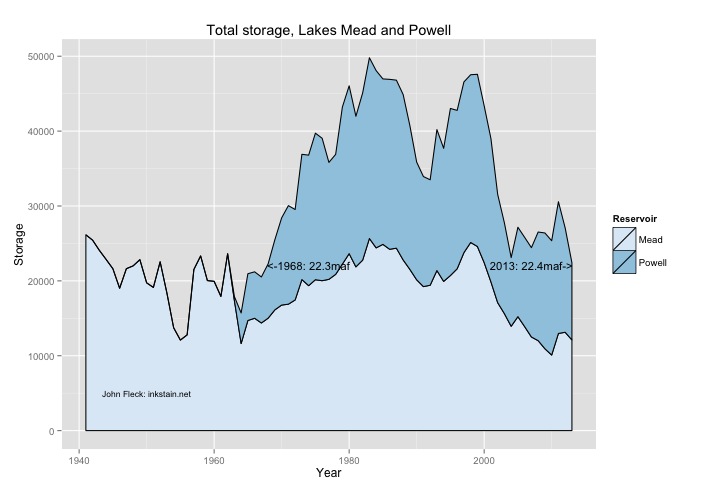 Total Mead/Powell Storage Headed for Lowest Level since Powell First Filled (Inkstain)
Ever the journalist in search of gloomy extremes, I just noticed that total storage in Lake Mead and Lake Powell, the two largest reservoirs used to manage flows on the Colorado River, is currently forecast (USBR pdf here) to end the current water year at its lowest level since 1968, when Powell, the uppermost reservoir behind Glen Canyon Dam, was first being filled…
Google: Earth Engine – Landsat Annual Timelapse 1984-2012: Meandering River in Peru!
Garmin Oregon 650 review (GPS Tracklog)
After using the new Oregon 650 for nearly eight weeks, I have found the device to be a very capable unit worthy of serious consideration. The Oregon 650 has surpassed nearly all of my expectations, and provided additional features and benefits I wasn't aware I wanted, and now do not want to be without.

A word of caution, however. Regardless of intended use for this GPSr, be it hiking, riding, geocaching, or whatever, once you've used the new features available with the Oregon 6xx, you may just find your other GPSr units collecting dust. A lot of dust.

You will not be disappointed.