This week: 3,000 estimated still missing in Uttarakhand, India, while the death toll is still uncertain and ranges from 600 to 10,000, how large was the flood in Calgary, the lack of gaging and predictability on the Alberta channels, and California's largest dam removal project in history gets going at the San Clemente Dam.
India floods: 'Thousands still missing' in Uttarakhand (BBC)
Nearly 3,000 people are still missing following floods and landslides which hit India's Uttarakhand state a fortnight ago, the chief minister of the state has said.

More than 800 people are reported to have been killed so far but Vijay Bahuguna said the exact number of deaths may never be known.
Uttarakhand floods: Toll uncertain, hundreds still stranded (Zee News)
Dehradun/Haridwar: There was still no clarity over the number of deaths in the flood-ravaged Uttarakhand, with a state minister Sunday not ruling out an "estimate" of 10,000-plus and Chief Minister Vijay Bahuguna putting the number of missing people at 3,000.

Uttarakhand Health Minister Surinder Singh Negi did not discount assembly Speaker Govind Singh Kunjwal's claim Saturday of the toll in the tragedy having crossed 10,000.

"He (Kunjwal) has given an estimated figure. At the moment, it is an estimate. It can go down, or it could go up. It is too early to give the exact number of deaths in the tragedy that has completely devastated the state," Negi told IANS.

The estimates, he said, were based on what evacuated people recounted to the rescue teams and to government officials.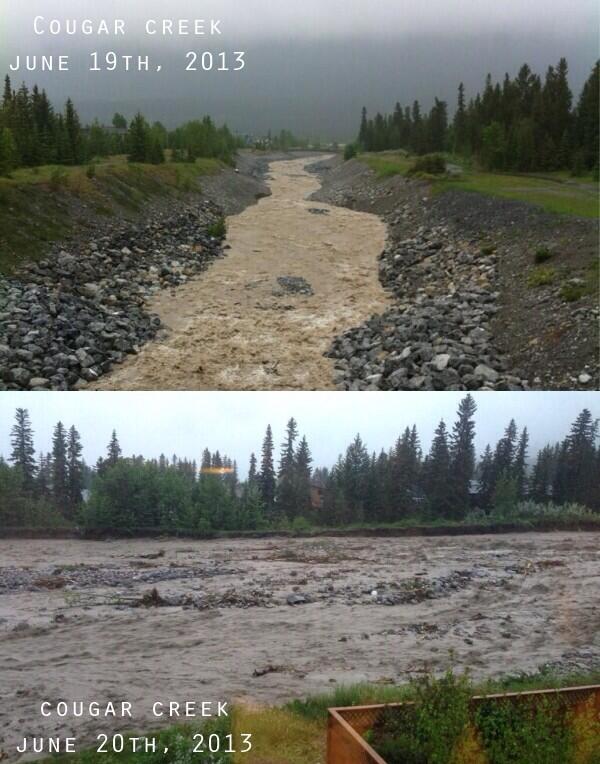 How Large was the Flood in Calgary? (Urban Workbench)
Various comments around the web have thrown out numbers like 200 year flood, 100 year flood, etc, however, from the data linked to above it appears that this flood is definitely less than a 1 in 70 year event on the Bow River at Calgary.
Authorities 'Caught Flatfooted' on Alberta Flood Disaster: Expert (The Tyee)
"If this had been the U.S., we would have had predictions on stream flow and measurement near real time. Here, we get measurements six hours behind and a few quantitative predictions." 

A fair amount of stream flow monitoring takes place in some parts of the country, but the upper Bow River Basin supports just four monitoring stations at the Bow, Lake Louise, Pipestone and Spray River. "And that's it," he says.

"We don't have enough stream flow measurements," says Pomeroy. Many waterways such as Cougar Creek, which caused the most damage, aren't gauged.
California's biggest dam removal project in history begins in Carmel Valley (Mercury News)
In a project that will be watched by engineers and biologists across the nation, construction crews today will begin a three-year, $84 million project to tear down the hulking landmark — California's largest dam-removal project ever. The work will open up 25 miles of upstream tributaries and creeks so endangered steelhead trout can return to their historical spawning grounds.