This week: Flooding remains critical in Assam, India, Lebanon, New Hampshire flash flooding destroys main arterial roads, what is river restoration, how cities around the world are adapting to climate change, and why we should rethink the 8 hour work day.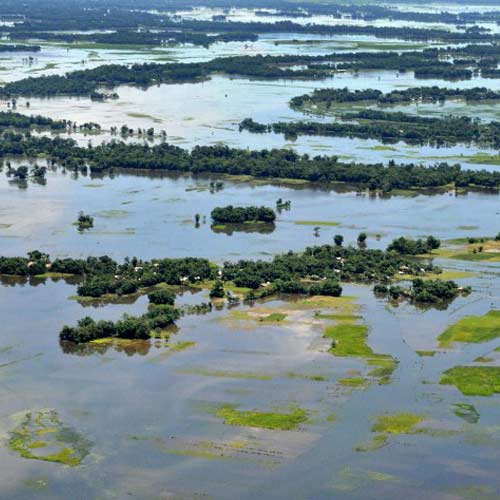 Assam flood situation remains critical (DNA India)
Assam's flood situation remained critical today with 11 districts reeling under the water of the swollen Brahmaputra and its tributaries affecting over one lakh people.

Heavy rainfall in the catchment areas of neighbouring Arunachal Pradesh has caused river Jiadhol to rise and inundate fresh areas in the worst-hit Dhemaji district, official sources said.
Assam Floods Worsen (FloodList)
The media coverage of the Assam floods has been sparse so far, especially outside India. This is in stark contrast to the Uttarakhand floods. This is fairly predictable and to a point understandable, since the floods in Uttarakhand involved so many deaths. But Assam has almost been ignored during this crisis. Over 100,000 people have been affected by the current floods there. Perhaps the media aren't interested without the drama of flash flooding, cloudburst and Tsunamis. Possibly Assam is overlooked since the floods there are less dramatic – they are slow growing floods as in the floods that hit the Mekong Delta over the last few years (described here). Or more worrying, perhaps India and the world's media are suffering from "Flood Fatigue" after the recent deluges in Uttarakhand, Germany and Central Europe and Alberta, Canada.
Flooding leaves torn roads behind in Lebanon (Concord Monitor)
Dozens of roads were damaged throughout the city in Tuesday's flooding, including major thoroughfares such as Route 120, which was closed for much of yesterday but expected to be reopened late in the evening. Lebanon officials said most Fourth of July activities will proceed as planned, but that tonight's fireworks display had to be postponed.
What is River Restoration? (The River Management Blog)
The term "restoration" implies moving something backwards towards a pre-existing state. You may think this means "river restoration" would involve assessing how the river used to look and function and recreating this; however in reality "river restoration" has become an industry term which encompasses virtually any work on a river which aims to improve something about the river. Perhaps "river restoration" should therefore properly be referred to as "river improvement", but this raises a further semantic question; improvement from who's point of view?
Beyond NYC: Other places adapting to climate, too (AP)
From Bangkok to Miami, cities and coastal areas across the globe are already building or planning defenses to protect millions of people and key infrastructure from more powerful storm surges and other effects of global warming.

Some are planning cities that will simply adapt to more water.

But climate-proofing a city or coastline is expensive, as shown by New York Mayor Michael Bloomberg's $20 billion plan to build floodwalls, levees and other defenses against rising seas.

The most vulnerable places are those with the fewest resources to build such defenses, secure their water supplies or move people to higher ground. How to pay for such measures is a burning issue in U.N. climate talks, which just wrapped up a session in the German city of Bonn.
Why We Should Rethink the Eight-Hour Workday (Lifehacker)
Split your day into 90 min windows. Instead of looking at a 8 or 10-hour workday, split it down and say you've got four, five, or however many 90-minute windows. That way you'll have just four or five tasks that you can get done every day much more easily.