This week: Deadly floods slowly receding in India after Typhoon Phailin, the flooding continues in Thailand, 120 bridges needing repair after the Colorado flooding, CDOT and contractors working hard to reopen damaged roads by December 1, and the post flood Ghost towns in the Big Thompson Canyon.
North East India Floods Update (FloodList)
Odisha

Floods are reported as receding across the state, although Baliapal and Bhogarai in Balasore district were still suffering.

17 have died in floods. 21 died as a result of Cyclone Phailin
Worst hit areas are Ganjam, Balasore and Mayurbhanj
There have been reports of medicine shortages in affected flooded areas
Also a rise in occurrences of snake bites reported

Despite the successful evacuations which so reduced the impact of the Phailin, many of those currently suffering in flooded areas of Odisha said officials had not warned them about the floods.
Further Flooding in Thailand (FloodList)
Thailand has been suffering from floods for several weeks now. Worst affected has been the northern and eastern regions. However, parts of Southern Thailand are also currently suffering from flooding. TNA reported that run-off from surrounding mountains has swamped many low-lying areas in the province of Krabi, a popular tourist destination for many.

Thailand's weather forecasters have said that Southern Thailand will see some heavy rainfall this week, probably by Wednesday 23rd October 2013. Area on the coast are likely to see strong winds as well as heavy rain. There is a fear that the rainfall is likely to result in flooding and landslides in the area. Authorities have issued warnings to those living in areas prone to landslides.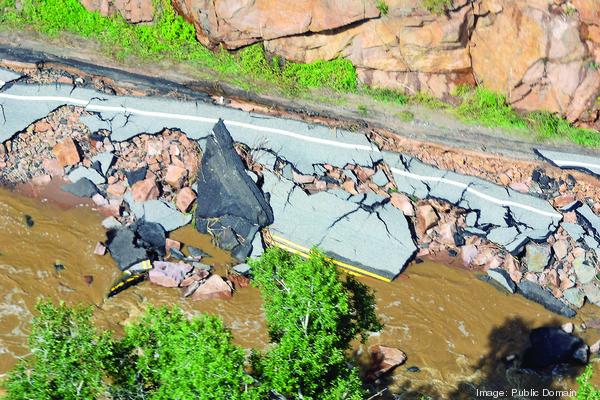 CDOT details flood damage to Colorado's bridges (Denver Business Journal)
Of the 411 bridges on the state's roads that were affected by the devastating September floods, 120 will need repairs, the Colorado Department of Transportation said Wednesday.

CDOT estimates that needed repairs to roads and bridges damaged in the floods could cost up to $475 million, spokeswoman Amy Ford said.
U.S. 34 builders still shooting for Dec. 1 (Reporter-Herald)
"Our first mission is to open a roadway between Loveland and Estes Park," he said.

[Johnny] Olson said the Big Thompson River crossed the highway in some places and now flows on the other side of the road.

"We will need to redirect the river," he said, calling the overall undertaking "massive."

"Anywhere from 60 to 70 percent of the road has some type of damage," he said. "We can't get into a lot of those locations yet to see if they are damaged or undercut."

Olson said the state is committed to building a two-lane paved road – with some gravel and dirt stretches – that will be open to all commuters by December.

A permanent U.S. 34, however, will take another two to three years, he said.
Colorado floods: A month later, mountain towns 'spooky' and deserted (NBC)
For weeks the Glen Haven native has been leading an all-volunteer clean-up, taking a leave of absence from his real job as a building manager with the YMCA in Estes Park, the comparatively untroubled city seven miles south. For 36 days he says he saw no county or state road crews in Glen Haven, a delay that Larimer county (which has responsibility for Glen Haven) says was unavoidable given the magnitude of damage in the area.

Whatever the reason, it slowed the return of other services, trapping at least half the town in the 18th century: high on the mountain without phone or power, or a way down that doesn't involve a backpack and very sore feet. A county crew materialized at the top of the road Thursday and another continued to nibble westward along County Road 43 from Drake, aiming to access a side road into the most isolated neighborhood of Glen Haven. But huge tracts of roadway between the two towns are scoured to bedrock, and expected to stay that way until at least 2015.